Is Get-Paid.com a Scam?
Get-Paid.com (ex GP Treasure) is a London based company and has been providing online market research & surveys since 2005.
Website: www.get-paid.com
Address:
75 Finchley Lane,
London
Nw4 1by
United Kingdom
+442034682571
Get-paid offers many different tasks:
filling out daily online surveys, data entry and transcription jobs, downloading apps, playing games, watching videos, clicking on ads, PayPerClick and much more.
How much does it cost:
You can join for free. You only need to register and can get started with the offers.
Payment methods:

Perfect Money, WebMoney, Payza, PayPal, Bitcoin and Amazon gift cards
Cashout duration:

Can be only a few hours up to a few days
Partners:

SuperRewards, CrowdFlower, SupersonicAds, radiumone, Paymentwall
Levels:
There are different levels at Get-Paid. No one really knows how many levels there are in total.
In order to level up, you have to earn some experience points. Every coin earned is equal to an experienced point. You can earn daily 30 experience points just by logging in every day.
Depending on which level you are you are going to see different tasks and you are getting different bonuses.
So, level up is one of you main goals at Get-Paid!
---
MY TESTINGS:
BUSINESS CARDS
I've been searching for a quite long time and as far as I know, the Business card section of Get-Paid is one of a kind! This is the section I've been testing since a year now.
The program shows you different Business cards and your job is to transcribe all the details from the Business cards shown.
How much Business cards do I have to transcribe?
It's totally up to you! You can enter only one or you can enter a few hundred!
But, depending on the availability, there can be only a few a day up to a few hundred of Business cards to enter. All you have to do is check the availability and start.
How much do I earn?
One correct entered item= 0,2 coins (an item is the name of the company or the phone number, etc.)
For 100 correct entered items you get 20 coins (100 items x 0,2 coins = 20 coins)
If you reach 500 coins, you earn 1 $.
Conclusion: you need to enter 2500 correct Business card items in order to earn 500 coins which is equal 1 $
---

Pros:

Non-correct entered items don't count and you are not getting banned.
It's a very good keyboard training.
It's kind of fun, because you are entering Business cards from all over the world.
Cons:

The offer is not always available. Sometimes you can enter Business cards every day, sometimes the offer is not available for a few days in a row.
The Business card company is from Japan, so you are getting credited at midnight Japanese time, which is at 6 or 7 pm in Europe (other tasks are credited immediately or with a delay of a few minutes).
The lower levels don't show the Business cards section. You have to level up in order to unlock this section.
You have to enter 2500 correct Business card items in order to earn 1 $! It takes you a very long time…
---
PAY PER CLICK
Depending on your level, there exist different types of click on ads-tasks.
The coins you are getting start from 0,15 up to 6 coins per ad.
The tasks vary: you have either to wait until the website loaded completely, or additionally to click on different internal or external links, depending on the offer.

Pros:
You are getting credited within a few seconds (just refresh your site).
The loading of the pages is very quickly and you don't waste time by clicking on the ads.
Cons:
There are days with very few ads.
Sometimes there are server errors which maybe depend on your country.
Some ads don't have more internal or even external links to click on, so you are not able to fulfill the offer.
When you do not follow exactly the offer and leave the page too fast, you get a warning. When you get more warnings, you risk getting banned from this task.
---
SURVEYS
There are many different surveys to fill out, some on a daily base. When you are able to finish the survey successfully, you are getting credited up to 200 coins, depending on the offer.
Pros:
Some surveys are very easy to make and cost you only 20 minutes of time, sometimes even less.  Some may take a bit longer.
You are been credited within a few minutes.
Cons:
Sometimes you could feel uncomfortable about the question you have to answer. Not always you find an "I don't want to answer this"-button.
Sometimes it happens that you won't be credited even with a confirmation of a successful survey at the end of the survey, or the offer promises to be credited within 5 minutes, but you have to wait for many days! Then you have to write to the support of the survey-company and hope they will help you out. If you are lucky, you are getting the earned coins.
---

WHEEL OF FORTUNE

There is a chance to earn additional coins: if you are able to earn 300 coins in one day, you are allowed to spin the Wheel of Fortune and get the chance to win another 100 coins!
---
My final conclusion about Get-Paid:
You won't get rich with Get-Paid, but it's legit!
But, if you are doing many different tasks a day such as daily surveys, CrowdFlower tasks, PayPerClick, playing Games, watching videos and maybe transcribing some Business cards (if available), then you can for sure spin also the Wheel of Fortune!
This way, you are able to earn some nice pocket money, maybe also with the help of some referrals.
Get-Paid DO pay and payout is very reliable within a few days.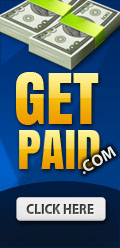 They have a great support and help you out with every issue. You are even getting credited when you post a question or something else in the Forum.
Please note: the offers vary from country to country, so you have to test it for yourself and find out, how it works for you! You may find other offers than me and maybe also differences in the coins you are earning.
You can join for free and test Get-Paid.com
---